5 Ways to Give Back This Holiday Season
November 18, 2020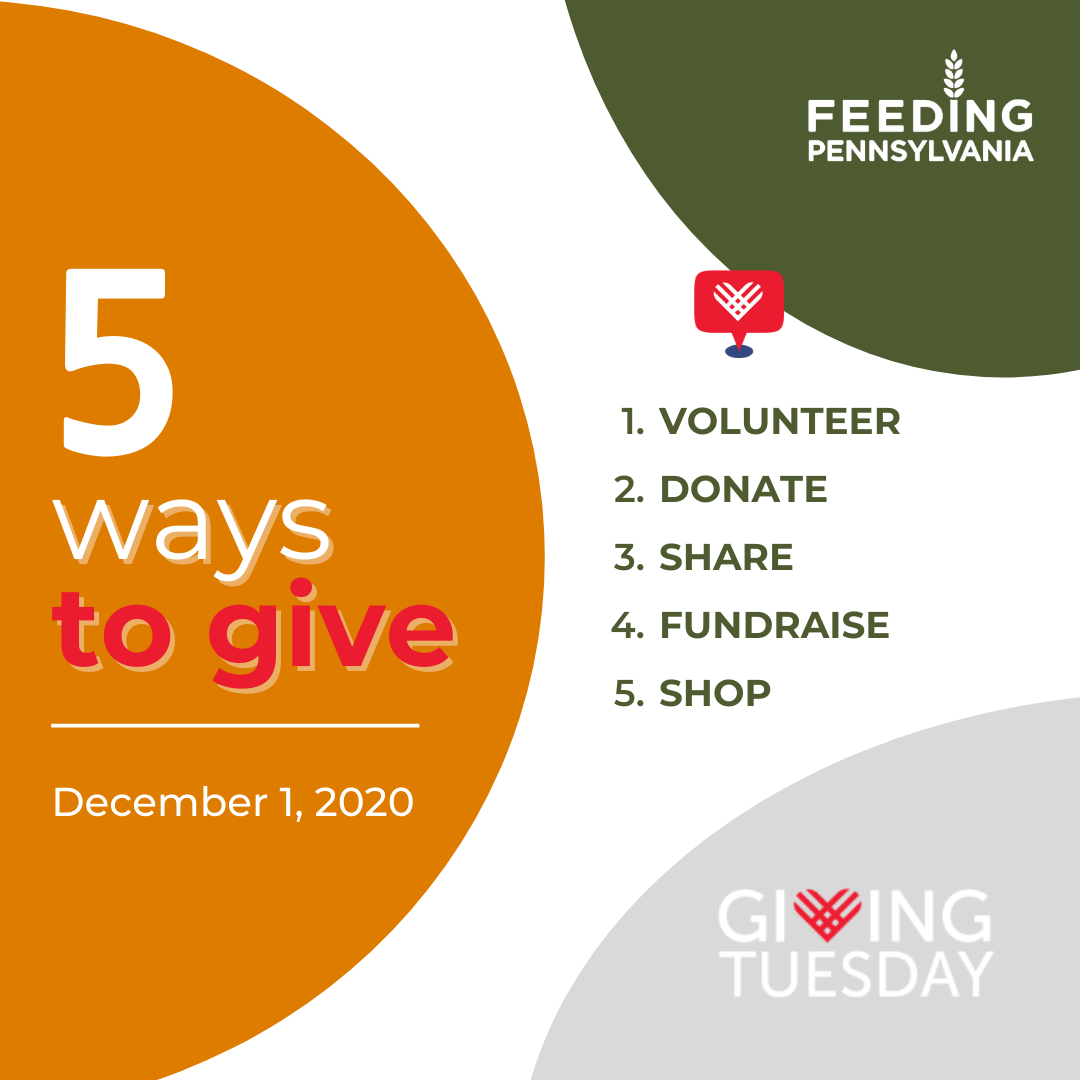 For many people, the holiday season is a joy-filled time spent with family, friends, and loved ones. Yet this year, the holidays will look very different for thousands of our neighbors. With the increase in unemployment due to the COVID-19 pandemic, food banks and pantries have seen a flood of new clients – many who never had to go to a food bank before. The need for food assistance in our community is unprecedented, and as our food banks continue doing everything they can to meet the increasing need, our food will certainly rely on your help this holiday season to ensure that every family in Pennsylvania has access to nutritious food. Below are five ways you can give back this holiday season:
Become a Food Bank or Food Pantry Volunteer
Feeding Pennsylvania's network of food banks rely on volunteer support. Spending a few hours volunteering can make a big difference for food banks and the families they serve. During the coronavirus pandemic, volunteers are asked to follow additional safety measures like maintaining social distance, wearing appropriate face coverings, washing their hands frequently, and staying home if they or a family member aren't feeling well. Be sure to check with your local food banks for opportunities to volunteer while staying safe! It's a great way to make an impact as a family, feel good about doing good, and start a new tradition. Find Your Local Food Bank!
Donate to Feeding Pennsylvania or your Local Food Bank
Your donation to Feeding America or one of our member food banks keeps hunger relief programs across the state running smoothly. While donating food may seem like the best thing to do to help your local food bank, the Feeding Pennsylvania network of food banks can do even more with a monetary donation! Donate today!
Share on Social Media
Many nonprofits encourage donations over the holiday season, but there are other ways to help that won't cost a penny AND have a big impact! By following Feeding Pennsylvania on social media or signing up for our e-newsletter, you can stay informed and help us spread the word about our mission! Like, follow, and share Feeding Pennsylvania posts to create awareness and inspire action among your followers to educate them about the serious issue of food insecurity across the state. Follow Feeding Pennsylvania on Facebook, Instagram, Twitter, and LinkedIn!
Fundraise for the Holidays
You have the power to make an even bigger impact, just by connecting with the people you know! Starting a fundraiser on Facebook takes just a few minutes but goes a long way to help families in need. Invite your friends and family to join in the fight to end hunger by donating to your local food bank or to Feeding Pennsylvania. Start Your Facebook Fundraiser NOW! 
Shop on AmazonSmiles
The holiday season is just around the corner and now is the perfect time to make a difference! By simply shopping for gifts on AmazonSmiles or with AmazonSmile on in the Amazon Shopping app, Amazon will donate 0.5% of your eligible purchases to Feeding Pennsylvania. And what's great — the donation will be made at no extra cost to you! Start shopping our link today!